Library Staff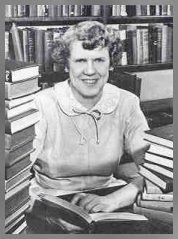 When the library first opened in 1954, there were 80 applicants for the librarian position. The library board selected Miss Hilda Nordvold who was a former high school teacher from Winona, Minnesota.
A five-member board governs the library and includes:
Betsy Wells - President
Helen Kirpan - Vice President
Mary Dean - Secretary
Bonnie Burskey - Treasurer
Iris Cuppy (whose father was an original board member)

Anna Raines of New Cumberland is the current Director of the library and is assisted by Judy Jewell, also of New Cumberland.